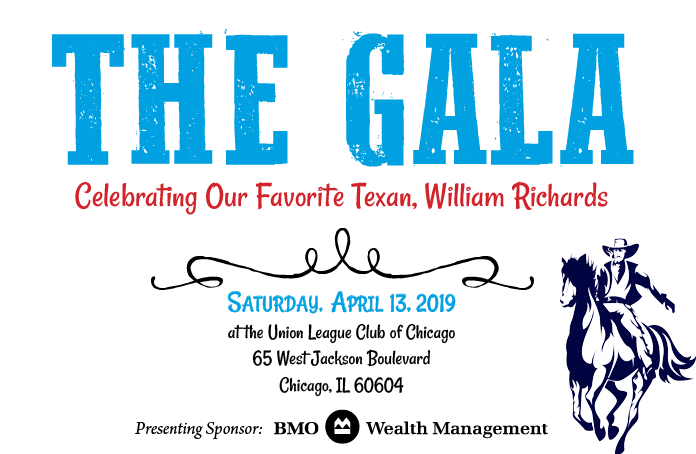 On Saturday, April 13th, 2019 at 6 p.m. the Luminarts Cultural Foundation is proud to present The Gala, our annual spring celebration. This Western-themed event will feature cocktails, performances by Luminarts Fellows, a sit-down dinner, silent and live auctions, and other ways to support our mission of cultivating the next generation of world-class artists and Chicago's vibrant arts community.
SATURDAY, APRIL 13, 2019
at the Union League Club of Chicago
65 West Jackson Boulevard
Chicago, Illinois 60604
TICKETS: $300/Person
Can't make it to the event but want to make a donation? Click HERE.
For information about the event or to become an event sponsor, please contact Marlena Dzis, Development Director, at marley@luminarts.org or call (312) 692-2379. To view sponsorship opportunities, click HERE.
Please note that sponsorships committed by February 8, 2019 will be recognized on the event invitation.
Myrna W. Kaplan, Gala Chair
Frank De Vincentis, Board President
PRESENTING SPONSOR

Event Sponsors

Thompson Coburn LLC
Myrna W. Kaplan
Gerould and Jewell Kern
Dr. Sally Metzler and George Dunea MD
Michael C. Goode
Cherilyn Murer
North Star Investment Management Inc.
BTC Trust Company of South Dakota

Be the first to know about our events, including The Gala, as well as other special announcements about Fellows, Luminarts programs, and more! Click HERE to join our email list.
Sponsorship Opportunities
$10,000 Everything's Bigger in Texas" Sponsorship (Charitable Contribution: $8,200)
12 tickets with premiere seating at the event

Personal visit from a Luminarts Fellow during dinner

VIP Champagne service during dinner

Half-page event program ad

Verbal acknowledgement in opening remarks

Onsite signage

Logo recognition in event invitation (650 invites), program (250 pieces, eBlasts 8,500 constituents), and Luminarts' website
$7,500 "As All Get Out" Sponsorship (Charitable contribution: $6,000)
10 tickets with premiere seating at the event

VIP champagne service during dinner

Half-page event program ad

Verbal acknowledgement in opening remarks

Logo recognition in event invitation
$5,000 "Pretty as a Peach" Sponsor (Charitable contribution: $3,800)

8 tickets to the event with premiere seating at the event

Listing in the event program

Verbal acknowledgement in opening remarks

Name recognition in event invitation, program, eBlasts, and Luminarts' website
$2,500 "Bless Your Heart" Sponsor (Charitable contribution: $1,600)
6 tickets to the event

Listing in the event program

Name recognition in event invitation, program, eBlasts, and Luminarts' website
In-Kind Sponsors






Nicole Cabell
Jeffrey Michael Austin
Pamela Hollis
Myrna W. Kaplan
Tom Karaba
Neiman Marcus
Jonathon Club in Los Angeles
Los Angeles Opera
Union League Club of Chicago
Firestone Distillery
Modern Art Museum of Fort Worth
Royale Projects
Key Largo
Fort Worth Club
The Lodge in Tucson
Oyster Bah
Chicago Botanic Garden
Rosebud Restaurant
The Arts Club of Chicago
Lincoln Park Zoo
Paulette Wolf

Dress Code
Black Tie Preferred
Western Flair Welcome